Children are often unpredictable and like to climb to heights that are taboo for them. Playground nets that we make especially for schools ensure that children can remain children. Especially in small kindergarten rooms, raised play levels are created to create enough space. You will also follow the children's natural play and climbing instincts. High levels and galleries are secured by a railing or a fence, but these have often been built according to outdated building regulations. You cannot think for sure enough here: children can stand on chairs and, if they are raised, fall off the level. Therefore, a playground safety net is necessary. In addition, if the distance between the struts is more than three inches, this additional protection is also required. A net can be used both for a simple reduction in the distance between the struts and for complete securing up to the ceiling.
According to certain rules, where children are at risk of falling, must be secured following their age. If it is to be expected that climbing and climbing possibilities can be placed next to the fence on elevated play levels (e.g. mattress stacks, small tables, chairs, shelves), the fall protection is ideally to be led up to the ceiling of the room. Such protection can be provided by tightly tensioned networks. Our playground equipment nets meet the requirements of these rules and we design them as Netrags company for the potential loads in the playground area. The comparatively small mesh sizes do not encourage climbing on the construction.
Diverse Safety Playground Equipment Nets in Netrags
Our safety nets enable you to make full use of your group rooms in the schools and playground areas with a second level. If the elevated play level is equipped with a protective net up to the ceiling, it is again possible for the children to set up the doll's corner, building corner, or sleeping and cuddling corner up there without the risk of falling off. The safety nets still keep the view for the supervisors open, do not darken, and protect children from possible falls, in which an object is pushed up to climb on. Larger falling objects are also stopped and cannot injure anyone on the lower level. Ball stop nets can also be used outside to play.
The net is provided with a circumferential edge that is approx. 7 mm thick. An additional rope is sewn / chain-linked to the edge mesh. The end edge gives the net a clean finish on all sides and at the same time ensures stable and resilient attachment points. The finishing edge and all seams are made in the color of the mesh. The protective net consists of braided, dyed polypropylene filament yarn. It is an extremely tear-resistant and stable synthetic fiber. Due to the knotless interweaving, which is no less stable than a knotted connection, the net remains dimensionally stable. The material is of course 100% non-toxic, and contact with mucous membranes (mouth, eyes) is completely harmless. Thanks to their weather resistance and UV stabilization, our safety nets are suitable for both outdoor and indoor use.
How to Transform Playground Fields in Safer Sense?
Small children are often unable to adequately assess heights and dangers, so it can quickly happen that they can fall while romping, crawling, and climbing over parapets, from galleries, or through cross-terrain. Likewise, in old people's homes, where there is an increased risk of falling for older people. Because supervisors cannot provide 100% monitoring, there are nets on stairs that can be installed as stair nets directly on the banister. This is recommended if the banisters were installed at a distance of more than 20 cm and children could theoretically "slip through" there.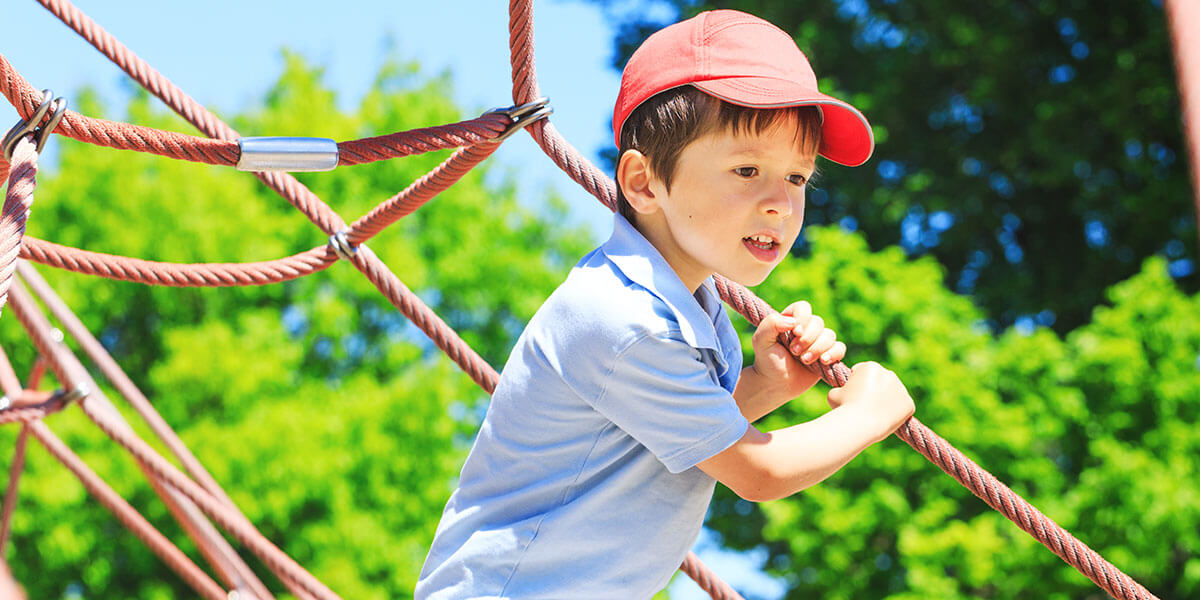 The actual purpose of stairwell safety nets is in large and spacious stairwells. They are installed in the stairwell on several levels in order to reduce the risk of injury when falling to a minimum. In addition, nets for fall protection in stairwells are of enormous importance for technical objects. This may be easily forgotten, but today most people carry very expensive electronic devices with them daily. Most stairwells are built so that at least a smartphone or tablet can pass through. From a higher floor to the very depths, such a fall can mean the end of these highly functional and sensitive technical devices. And sometimes that goes faster than you think or want!
If you own a two-floor home and have small children in the house at the same time, even one floor of the staircase can become an unwanted hazard. Children are always intensely involved in their game and are often unconcerned about possible dangers. It is the parents' responsibility to ensure that children can develop freely and playfully in a safe environment. If you have a staircase area in your house, you should definitely think about how you can protect your children in this area. With a fall arrest system, you can be sure that nothing bad can happen to your little ones when they run around and play around the house. Because even falling from one floor can have very protracted consequences for children or, in a very unfortunate case, even be fatal. In this sense, safety precautions are essential.
Installation Steps of Safety Nets for Children
When installing stairwell safety nets, there are some safety regulations to be observed. In principle, staircase safety nets can be treated like personal safety nets or side protection nets. These have to absorb a certain amount of energy in order to safely catch people in the event of an emergency. You can find guidelines for assembling these nets here. Horizontally stretched safety nets are to be attached to load-bearing points. Each suspension point must have been dimensioned for a characteristic load of at least 6 kN. The suspension points must not be more than 2.50 m apart. Suspension ropes with a loop spliced in on one side are a permissible fastening option. The suspension points must not be more than 2.50 m apart. The loop side is attached to the net. The free end of the net is then tied to the suspension point. In doing so, non-detachable knots are to be used or the knots to be secured against unintentional loosening. A recommended knot is a mast throw (fire department knot). With thimbles, you can provide safety nets at variable points with load-bearing suspension points. The thimbles can then be hooked or hung like thimbles. With safety snap hooks, you can provide playground nets with load-bearing suspension points at variable points. The snap hooks used should have a load capacity of at least 6 kN.
In addition to the selective fastening with suspension ropes, endless ropes can also be used for wrapping and fastening. During assembly, non-detachable knots must be used or the knots must be secured against unintentional loosening. Truss ropes are used to reduce the net slack in large safety nets. The rope is threaded across the net and tensioned at the ends. The coupling rope is threaded through the edge meshes of the two safety nets to be connected. Approx. 1.50 m of coupling rope is required per meter of net edge.
Netrags Nets for Freedom in Children's Adventures
With our safety net hook, you can securely attach safety nets to the underside of T-bars. The opposing hooking of the edge rope into the hooks on the underside of the flange handles prevents the net from being unintentionally unhooked. The two flange handles enclose the T-beam and are closed with a snap-lock by tightening a strap. Safety nets can be fixed to T-beams with the help of commercially available tension belts from the area of load securing. By threading lashing straps through the safety net with a maximum grid of 2.00 x 2.00 m, it is also possible to create work platform nets that can be walked on.
We would be happy to advise you individually on this application. Steel ropes are particularly suitable for bridging a distance without the possibility of fastening (e.g. for ball catching systems, shelf protection, or between two walls). If the net is used as a curtain, it can also be easily moved. The net can be threaded onto the steel cable. Alternatively, it can be attached with nylon rings or snap hooks. Our system was developed for the simple attachment of side protection nets on construction sites. They enable lateral safety nets to be quickly attached to scaffolding tubes or the like. Simply place the long end on the tube and place the opening of these products around the clip as a "buttonhole". Works even in wet, cold, and dirty conditions. With them, depending on the number used, a very uniform fastening can be achieved. After using the net, they can also be removed without leaving any residue. It is essential to pay attention to the specified maximum tensile force for the cable ties used.
As Netrags company we would love to be happy to provide the information that you need in order to choose the right playground safety net for your children's playground areas. We have a large scale of products in this field and therefore many different countries request our high-quality products. We have a strong business connection with the USA, the UK, France, Serbia, Georgia, Greece, Malta, Cameroon, Albania and many more. If you are curious about our other services, you are able to reach our next article by clicking on this link easily.